KMPlayer is my current favorite media player on my PC. It offers great features and seems very lightweight to me. However, I noticed that in the latest version, it will check for update on start up and shows a notification message if there is any update available.
The message which I referring to as follows: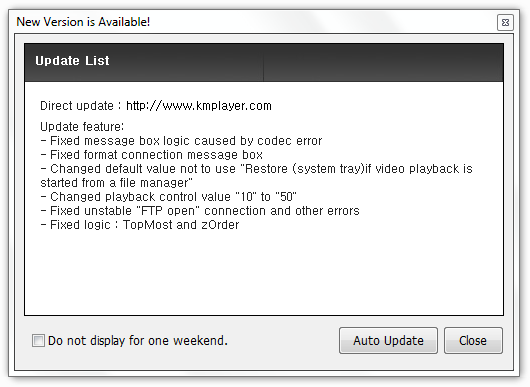 The update notification is good but for some reason, I was forced to download the full installer all over again and it is not very convenient. So I only update my KMPlayer once in a while.
So, how to disable KMPlayer 4 update notification on start up? I just simply edit the registry in my Windows 7. Do this on your own risk.
Run regedit.exe
Search for AutoUpdate key in HKEY_CURRENT_USER > Software > KMPlayer > KMP3.0 > OptionArea.
Change the value to 0.
That's all.
By doing this, the notification update pop up should not appear whenever you start your KMPlayer. If you have any tips and tricks, please share in the comment below.